Holloways Period House Shop - Frequently Asked Questions
At the Period House Shop, we work hard to ensure that you have all the tools available to you in order to make the right purchasing decision. Whether it's lighting, kitchens, bathrooms, radiators or the simplest of door knobs, we want you to make an informed choice and pick the right item. So here are some Frequently Asked Questions to help you along:
1. How does the website work?

Our website has been designed to make shopping easy and secure. Our products are arranged in easily identifiable categories. All of these categories can be viewed by pressing the 'PRODUCT CATEGORIES' button on the top left-hand side of the screen. By selecting a category you will then be shown the products it contains. More detailed information is available for every product and, when you have found what you want, you can add to your shopping basket. Please note that the basket does not commit you to anything. You can edit it or empty it at any point. Once you have selected the products you want you then press 'Continue to checkout' and our secure checkout and payment system will then guide you through the payment process, step by step.
We accept credit card payments which are processed using a secure server - our payment processors are WorldPay, one of the world's leading online payment providers. Our system is set up to charge credit and debit cards in Pounds Sterling. Please note that if you are shopping from outside the UK, your card company will convert our Sterling price into your local currency and the amount will appear on your next card statement.
We accept most major cards - but not American Express or Diners. In order to progress your order, payment is taken when the order is placed. This ensures stock is allocated to you.
2. Can I search for a product? If I search for only a short word it doesn't work.
The search on our site it located on the top right of every page, or at the top of every page in the mobile version of the site. You can use this to enter any search criteria you wish, however, it is limited to at least 4 characters. So trying to search for only 3 letters will not work. When we designed the site, we found that simply too many results would appear if only using 3 letters, as it would look through the entire title and description of an item in order to display the search results. So the more exact you can be in the search, the more refined your results will be.
3. I MUST speak with someone, who can I call or email?
Our customer service team will be happy to assist in any way possible. You can call us on 01584 877276 or email us at sales@periodhouseshops.com between 9:30am and 5pm Monday to Saturday. Emails received outside these times may be delayed and responded to as soon as possible.
4. What is IP rating and how does is affect lighting?
IP rating relates to the moisture and dust proof of lighting fixtures. IP stands for Ingress Protection. Basically, how much moisture or dust does the fixture allow in to it. The two numbers do not represent a value, instead, each number represents a seperate value. The first number represents the amount of solids allowed in, while the second is the amount of moisture allowed in.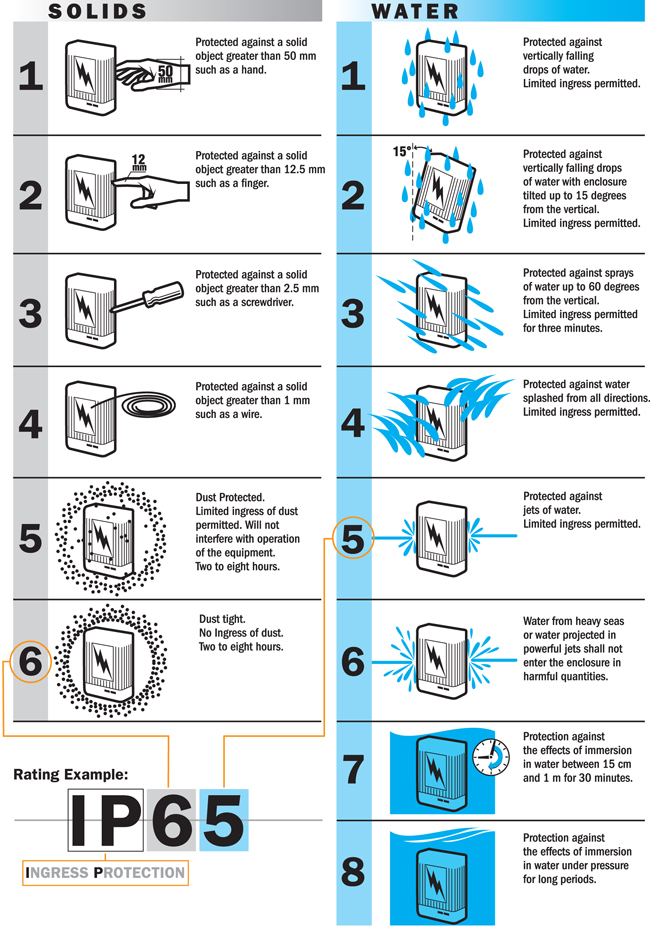 5. What are bathroom zones and how are they different from IP rating?
Bathroom zones indicate the distance of a fitting or fixture from the water source, so the zone changes depending upon it's distance from the water. Zone 3 is for general lighting in the room that would be farther than 60cm from any water source. This would include a hanging or pendant style fixture that may be fixed in a zone 3 area, but if the body of the pendant hangs in to a zone 2 or zone 1, then it must be a specific IP rating in order to be safe from moisture.
Zone 0 - inside a bath or shower itself. The fitting must use a low voltage supply that is max. of 12v and also be IP rated at least IPx7 which means it is able to be immersed in water.
Zone 1 - is an area to a height of 2.25m from the floor, above a bath or shower tray. Fittings requred in this area must have an IP rating of IPx4. If jets of water are used the fitting must be IPx5. This means it is protected from water in all directions and uses a 240v power supply, and must use a 30ma residual current device.
Zone 2 - a 60cm area outside the perimiter of the bath and to the height of 2.25m from the floor. A fitting must have an IP rating of IPx4, unless the fitting may be subject to jets as well, then it would require IPx5 here as well. It is best to regard the area 60cm around the basin and any tap as zone 2.
Zone 3 - this is anywhere outside the other zones where no water jet is to be used. No IP rating is required in this zone, unless a fixture were to hang, or be a longer fitting that would stretch in to one of the other zones.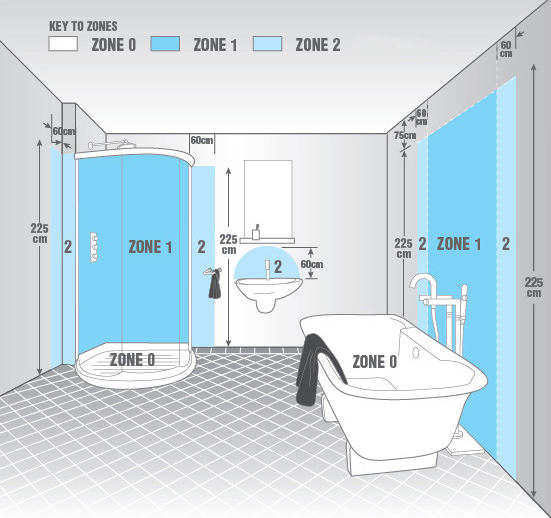 In every case, its always best to check with your electrician.
6. What are the different types of bulbs?
There are many different types of bulbs available and lighting can have a variety of fitting for each one.
Bayonet Cap: SBC and BC
Comes with a "push and twist" locking mechanism and is usally used for mains voltage lamps, but may be found in some low voltage halogen lamps. the SBC or Small Bayonet Cap is typically 15mm in diameter, while the BC or Bayonet Cap is 22mm in diameter.

Edison Screw: E type bulbs
This type is widely used around the world. It is the standard screw in light bulb that comes in a variety of sizes:
E5 - 5mm diameter
E10 - 10mm Diameter
E12 - 12mm Diameter
E14 - 14mm Diameter
E27 - 27mm Diameter
E40 - 40mm Diameter
These bulb fittings will apply to different types from CFL, LED and incandescent. The two most popular are E14 or E27 and all our lights indicate the type of bulb required. Some have integrated lighting in which the bulbs cannot be changed but this is indicated within the description of the item.
Halogen and LED Spot lights: GU and GZ types
These are the most common spot light types used in a wide range of our lighting. GU4 and GU5.3 are pins, whilst GU10 and GZ10 have locking mechanismes that require a push and twist to fit the bulb. GU10 bulbs are slightly beveled whereas GZ10s do not and has a more square base. These bulbs will typically come in Halogen or LED versions. Again, the details of the product will indicate what type of bulb is required or can be fit and if it is LED compatible.
7. What is LED Colour Temperature or 2000K mean?
"Colour Temperature" relates to the colour shade of the light. Where warm white usually indicates a yellow tint, and cool white more of a blue hue. This temperature is measured in "K" for Kelvin. Here is a handy chart so you can understand how the K of a bulb is measured: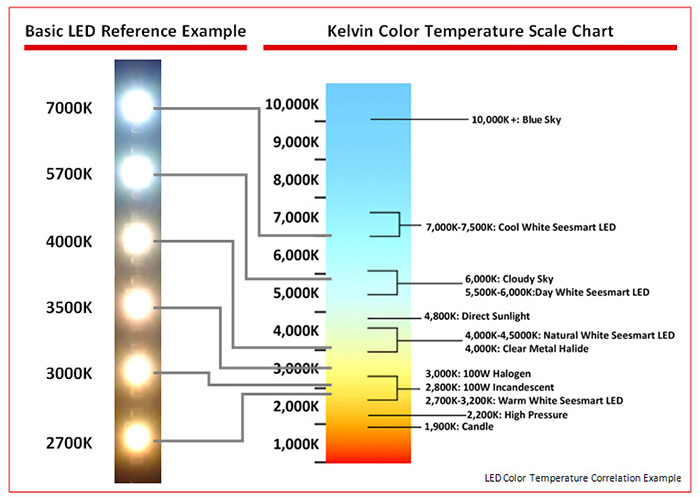 8. Should I measure the space for my radiator?
NO! These measurements are very specific and should be done by a professional fitter. There are many aspects of radiators and radiator fitting that are difficult to gauge. We suggest having your fitter professionally measure before placing any order, and ensure you have received your product before scheduling any work. In some cases we cannot guarantee lead times or delivery times, so we can't give you an exact date or time of delivery. Once an order is placed, we do our best to provide all this information to you, but we cannot guarantee delivery times due to the nature of the product.
9. Do you have a question not listed here?
We're just starting to get our FAQ together, so if you have a questions that you think everyone will benefit from why not drop us a line. You can email sales@periodhouseshops.com and ask your questions. We'll try to answer you as quickly as possible and will consider adding the question to this list to benefit everyone.
10. Chat with us
We welcome your calls. Telephone 01584 877276 between Monday and Saturday, 9:30am to 5pm. We will endeavour to answer your query there and then. If we need to do a little research to get the right answer then we may need to phone you back.